GENDER-SPECIFIC TREATMENT
MARR Addiction Treatment Center has been in operation in Atlanta, Georgia for over 40 years, and it is one of the few non-profit treatment facilities remaining in the southeastern United States. Since opening its doors in 1975, MARR has been dedicated to bringing total recovery to chemically dependent individuals through high-quality, cost effective, gender-specific treatment programs. Our drug and alcohol rehab program is designed around mentoring clients in a disciplined, caring and respectful environment. The total needs of each patient are addressed to achieve lasting recovery, physically, mentally and spiritually.​
THE MOST IMPORTANT
PHONE CALL YOU'LL MAKE
Making the phone call for help can be a daunting first step for those struggling with addiction. Our licensed and certified admissions coordinators are available to answer any questions you may have, as well as schedule a FREE, confidential assessment. We are committed to ensuring the best treatment recommendations for each individual.
Atlanta-Based Addiction Treatment and Recovery Resources
We understand that the process of you or a someone you love starting addiction treatment can be stressful and overwhelming. Our clients are our top priority, and we want to help identify the best options for you, even if that doesn't mean coming to MARR. Our Clinical Assessment Team is a source of information and support during this part of your journey. We want to hear your story and help you figure out the next best step.
Marr is committed to individuals and families to ensure they get the help they need. We want to help you or your loved one build a life of recovery that will extend far beyond your time in treatment.
"Treatment and recovery are more than just abstinence—they're about healing. And that's a process."
–Jim Seckman, MAC, CACII, CCS
CEO
PIONEERS IN LONG-TERM ADDICTION TREATMENT
Studies show that the longer an individual remains in addiction treatment, the greater his or her chances are toward lasting recovery. MARR's safe, structured environment provides the support clients need to begin their recovery journey. From intensive residential treatment to aftercare groups and alumni, we walk with clients for life.
National Long-Term Residential
Treatment Completion Rates
MARR Long-Term Residential
Treatment Completion Rates
"… and you will commence shoulder to shoulder your common journey. Then you will know what it means
to give of yourself that others may survive and rediscover life."
–Alcoholics Anonymous
40 Years Experience
Long-Term Treatment
 Gender-Separate, Gender-Specific
 Clinically Driven
 Therapeutic Community
 Spiritual Guidance
 Work/Life Balance
 Family Support
 Cost-Effective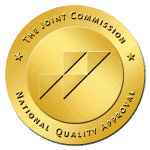 MARR is committed to providing quality addiction treatment services and a comprehensive continuum of care. State-licensed and accredited by The Joint Commission, each program is gender specific and promotes a balanced mental, physical, and spiritual life in recovery. Our clinicians are licensed and/or certified, with extensive training and experience in the fields of substance use disorder and mental health.