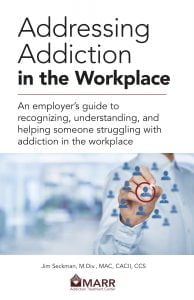 Addiction is an equal opportunity disease. It affects people from all backgrounds, at all ages, and in all walks of life. With 10% of the population suffering from addiction, if you supervise employees in any industry the chances are that you have or will encounter a problem with an employee who is showing signs of substance abuse. 
Despite the high likelihood of such an event, there is surprisingly little management training or education on how to handle this common problem. When people in positions of authority encounter addiction, they often fail to recognize it as such. If they do suspect it is addiction, they do not know how to proceed. Questions that typically arise for a person in this situation might be: What are the common signs of substance abuse? If I see these signs, what should I do about it? How do I bring it up without knowing for sure? What options do I have? 
To help provide answers to these questions our treatment center recently published a short booklet, Addressing Addiction in the Workplace. The material helps employers and supervisors to identify signs of addiction and appropriately handle conversations with employees. The book's author, Jim Seckman, has worked as a counselor of 30 years and has served at MARR as both the CEO and clinical director. 
Copies available at the MARR online store. Typically sold for $4.95, for a limited time we have complimentary copies available thanks to funding from The Hanley Family Foundation. Simply use the promo code WORKPLACE to have your free copy shipped to you today.